Lands of Illusion                                                  Jason Baldinger
There is a moment that music has been lost to me. I think it was somewhere in my back pocket as the decade turned and then, well I have no idea what happened. I have been graced at this point in time in my life to have worked in record stores for over twelve years, to have DJ'ed in college radio for fifteen years, to have played in bands for nearly ten, and to have collected music of all sorts, as well as live shows that go with them, for over twenty years. I say all these things not to wow with what may be infinite knowledge of finite exceptions, but to express that I'm fucking tired.
I have crammed as much sound in my head as a man can for years and I am tired. I am so tired that I have run out of words to explain music, to breathe life into sounds, to try and adhere something shabby to something sublime. It has been nearly two years now since I've tried to eliminate the music in my head, to allow it to pass away, to extinguish; the problem is that I can't.
I have found this purge has been good, my thoughts aren't coherent but my canvas is more concise. I'm coming to terms with my first love again at this middle stage in both of our lives. I still lack the ability to burst with joy about ten records that made me shout out loud this year, although if pressed I may be able to make such a list.
I find clearly in my listening, that I have obsessions. I sit in the dark and listen to first side of After the Gold Rush until I fall into the crack of the wall. I play Charles Mingus CDs in the car until every road I drive disappears. I listen to William Basinski's Disintegration Loops till all that exists are the words I'm typing. I listen to Abbey Road with a headful of mushrooms until I can no longer breathe for myself. In these somewhat insane processes I find that I'm becoming reacquainted with things I've heard, pretended to hear, listened to once and forgot, or forgot until someone played it again and I had to embarrassingly ask what it was, or nod my head until it became painfully obvious.
This is how I listen to new music now; dipping a cautious toe, waiting for sound to overtake me. I listen to new purchases endlessly, sometimes obsessively, till what can be distilled from it becomes blood. One of 2012's best, Josh T. Pearson's Last of the Country Gentlemen came this way. I put it on before sunset and listened to it five times through while driving through early spring in ever-widening circles, the hues of the record changing with the light or lack of light. My trajectory spiraling until it seemed as if I could finish a broken version of the Orange Belt in an hour. In those moments of motion time stops, or reverses and it seemed as if the wandering obsessive lyrics the nimble guitar acrobatics were dawning as a joke and a triptych of loss simultaneously. Once darkness was achieved, Pearson and I were laughing at each other, maybe I was just laughing along with the infinite failure of our very human experiences.
I find myself at a similar point with two other recent releases: William Tyler's The Impossible Truth and Kevin Morby's Harlem River. I find that both of these LPs have nine-minute songs at their centerpiece which makes them kin; it also proves that I have lost any concept of what brevity should be.
In the last several years, finger-style guitar records have become a dime a dozen, I'm not sure if it was the death of John Fahey, or Jim O'Rourke's 1997 seminal rebirth of the genre Bad Timing or if it was a bunch of kids who caught the Anthology of American Folk Music when it resurfaced in the mid-nineties, but somehow it sparked. That ground fire plastered the indie scene while a bunch of finger busters intent on and mostly failing at imitating a soundscape that was originally an offshoot of the sixties folk movement. That offshoot bloomed in the later part of that decade then wilted into something as nefarious as new age. When it resurfaced with Bad Timing, it set a new bar since unmatched, although that is debatable.
Tyler's Impossible Truth came to me earlier in this year, some point when winter wasn't really being winter but life was moving like it. I found a promo in the stacks at the record store I work in and, intrigued by the washed out cover, I put it on. Within the first few bars, the next reimagining is on, a breath, Laurel Canyon, Los Angeles; a scene of the seventies in some east meet west fever dream that could be Fahey, The Byrds, Van Dyke Parks, Mike Nesmith or more. I read through song titles as the first song climbed to stride, a trombone holding the low end while the bass, lap steel, and guitar interweave: Country of Illusion, Geography of Nowhere, Cadillac Desert, We Can't Go Home Again, Hotel California. This is not your run of the mill version of California; this is the truth of illusion that is California. This is the painted invocation of an American dream Polaroid, yellow with age, a cigarette burn in the center, in the white border a note that says "Wish You Were Here."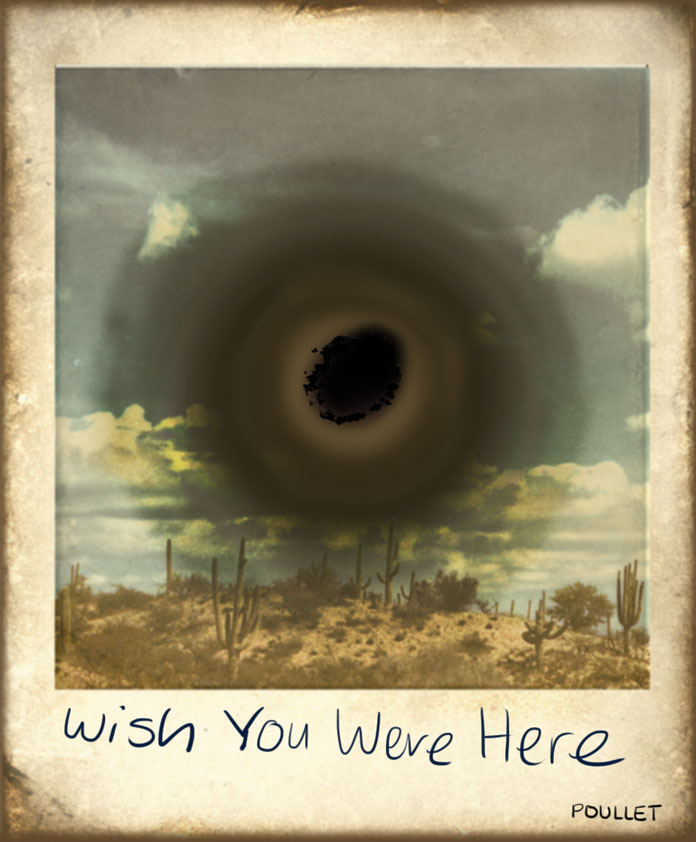 The statement of themes grow larger in each run of the guitar, more elaborate, only to collapse in on itself, sealed in tar under the melancholy of lap steel. The picture of road bleached in the sun. Under the fuzz of a bass, the opening view, the bottom of the mountain. In wisps of organ that grow as you climb you see the desert stretched out, stained with the high water marks of whatever civilization failed to take root there. The visible wreckage is a twisted, unsustainable mass that illusion was written on and discarded when the truth of its enormity and folly became too disastrous to be believed. This is a road movie that hasn't yet been made, but a place we've been all the same. This is the apocalypse of a civilization that would try and find meaning in checking out anytime you like but never leaving. This is place being so cognizant of itself that it is no longer place.
Kevin Morby finds that same vacant place with his Harlem River LP. I heard the title track while shaking off the cold after a walk to the post office, and was mesmerized. Morby is looking for his loss up the skirt of Dylan's Blonde on Blonde, and the record belongs in the same murky dreams of leaving as that that LP. Harlem River is a prayer to the dead, a place that was then lost. There are whispers of it in the time changes that pop off abruptly throughout several songs. There is the need to be remembered by what you're leaving and the poetry of what that leaving means. You can hear it most clearly in the bass and drums as they lock on the title track and lay space for that exact poem, that moment where what we lost drowns itself in the endless sound of where we are. All these understated places, as guitar lashes out, and percussion grows taller within the layers. There is loneliness everywhere. Blood pours out of a steel guitar. Release the fire, but don't send me to hell. Whisper past the graveyard so the dead don't recognize that we were born to be with them. When the cycle ends we find the same message written on the wall. This is the place we are, and being as cognizant of that place, it is no longer any place at all.
It seems that if this was the best 2013 had to offer, then it was a year for nihilism. Music reaching the end of itself as it choked on its bloated lack of creativity. In its endless rehashing of things we heard and realized, internalized and forgot. Are there better records that came out in 2013? Yes, it's probably so. But in a convoluted landscape of commodity all there is to hope for is to find things that still speak to us, and maybe in some cases for us. I can stand with these records and the hope that there voice is clearer, that there voice is a talisman of place, a marker of loss. These records are nothing more than fleeting experiences. In the end, I suppose that's all any of us can hope to carry.
Jason Baldinger has spent a life in odd jobs, if only poetry was the strangest of them he'd have far less to talk about. Somewhere in time, he has traveled the country, and written a few books, the latest of which are The Lower 48 (Six Gallery Press) and the chapbook The Studs Terkel Blues (Night Ballet Press). A short litany of publishing credits include Blast Furnace, B.E. Quarterly and Fuck Art, Let's Dance. You can also hear audio of some poems on the bandcamp website by just typing in his name.