Big Daddy Lipscomb the Astronaut                                    Bob Pajich
Eugene "Big Daddy" Lipscomb has been cold and dead for more than 50 years, but his physical size, his giant personality, and his mysterious death at 31, stops writers and reporters from leaving his bones lay.
There are no answers here, only trivia and dollops of wonder about the defensive lineman who, after slamming his opponents to the ground, would help them back to their feet and with a big grin, brush the dirt and grass off their uniforms.
Lipscomb played two years with the Steelers after he was traded by the Baltimore Colts in 1960. He was the second oldest player on the squad. Only old man quarterback Bobby Layne outranked him in the age department.
Steelers coach Buddy Parker said Lipscomb "was the best man I ever saw at knocking people down."
Lipscomb was the NFL's first real big man. At 6'6" and about 300 pounds, he was considered a monster. Fellow d-lineman Ernie Stautner was a pip-squeak next to Lipscomb and he stood 6'1" and weighed 230. They were both mean as hell.
For some perspective, modern nose tackle Casey "Big Snack" Hampton was 6'1", 320. Current Steeler Daniel "Shade Tree" Caruthers, the biggest Steeler to ever crack the roster, is 6'7", 352.
Long-time Steelers coach Dick Hoak, who played with Lipscomb in the ʻ60s, said he was the first big man that could go sideline to sideline, and there's little doubt Lipscomb changed the way teams tried to man the position of defensive lineman.
Sportswriter William Nack, in his long, compelling feature piece on Big Daddy, warned people not to call Lipscomb fat. The great Nack wrote:
He was, in fact, the prototype of the modern lineman, the first 300-pound Bunyan endowed not only with enormous power but also with the two qualities usually denied men of his size: agility and speed. His belly did not roll out of his pants. He was hard and trim, and the fastest interior lineman in the league.
Again, from Nack (from "The Ballad of Big Daddy" in his collection, My Turf; also available on the Sports Illustrated website):
He was the quintessential "gentle giant" who picked up opposing players after knocking them down. "Are you all right, Sweet Pea?" he asked Los Angeles Rams quarterback Bill Wade, extending his hand after crushing him in a pile-on."
But don't be fooled. Lipscomb's size matched his meanness. In a sport filled with mean, nasty men, Lispcomb will always be on the list of the most brutal.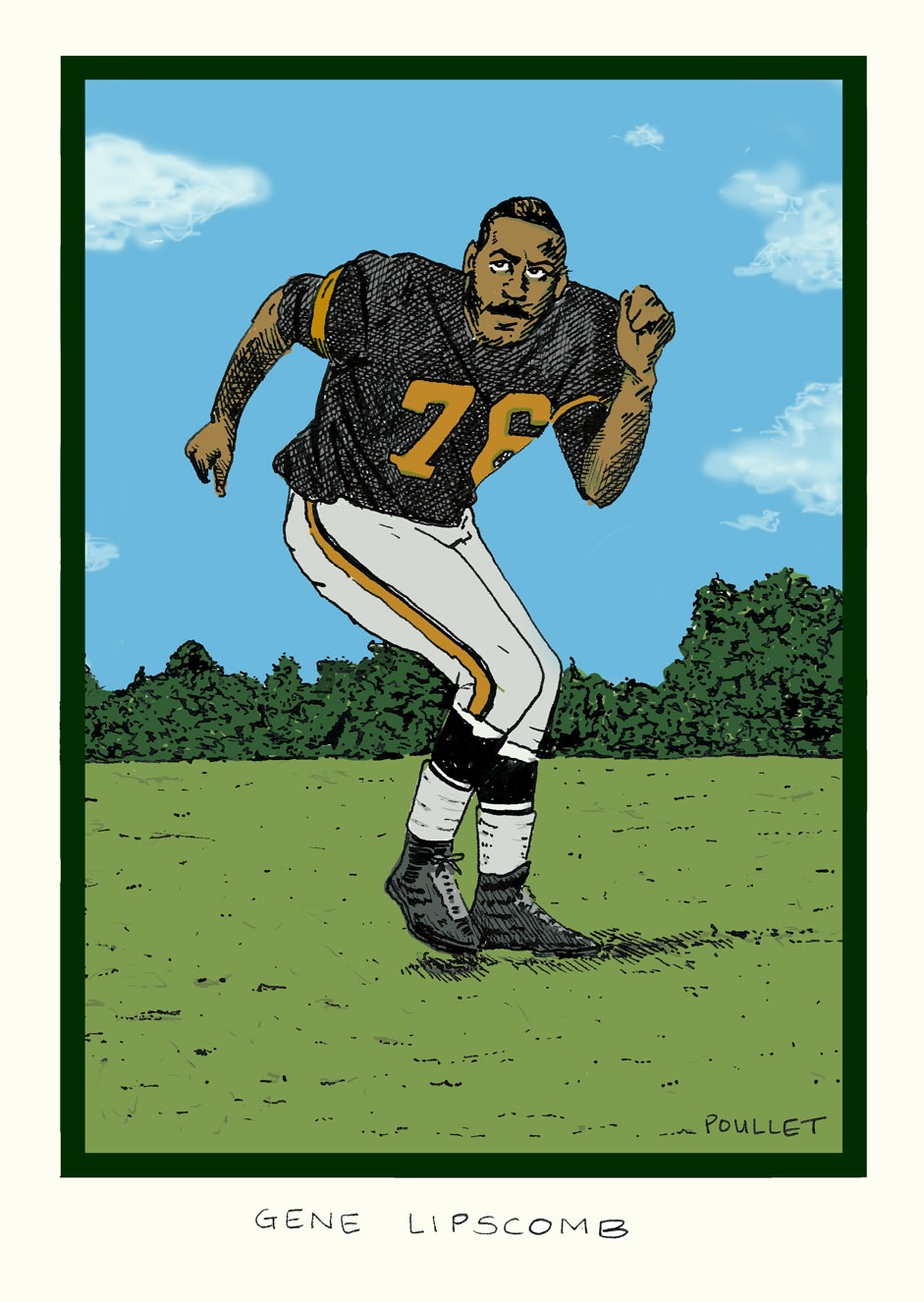 Hunter S. Thompson wrote:

Gene "Big Daddy" Lipscomb was arguably the cruelest pass rusher in NFL history. He was a violent junkie who invented the dreaded roundhouse whack upside the head—directly on the ear-hole of his victim's helmet—that often burst both eardrums of any hapless offensive linemen he could reach. Big Daddy weighed 300 pounds and he really wanted to hurt people. And he did—but he is not in the Hall of Fame.

Lipscomb was a standout high school footballer and baseball player in Chicago, but he lost his amateur status before his senior year for playing summer league baseball for cash. The boys in the city football league got lucky that season, particularly the offensive linemen and backs, because instead of knocking people over, this "violence junkie" dropped out of high school, worked in a steel mill and partied.

It's hard to believe that Lipscomb was an amateur at anything—he was born adult, married his first of three wives at 18—but the amateur status cost him massively.

Lipscomb's childhood was rough and violent. His mother was a domestic violence victim, stabbed to death by her boyfriend in the middle of the day on a public street before Lipscomb turned 10.

He was raised by his grandparents who wanted little to do with him. Big Daddy was beaten, often, and the physical abuse and emotional damage done by his own blood were demons that often feasted on Big Daddy's soul, and, by turns, made him sullen and mean, then weeping and sorrowful.

"Instead of telling me what I was doing wrong and how to correct it, my grandfather would holler and whip me," Lipscomb said in an article titled "I'm Still Scared" that ran in the Nov. 12, 1960 edition of the Saturday Evening Post.

His grandfather once tied him to a bed, stripped him, and beat him for stealing a bottle of whiskey.

Former teammate and road roommate Lenny Moore, said Lipscomb often cried himself to sleep, a pistol under his pillow. Not far from his massive head, in his wallet, were pictures he carried of his mother, laying dead in the street, shots of the gory murder scene he got from a detective.

There were some days when you wouldn't want to be standing across from Lipscomb when he was under his leaden cloud of depression, especially on Sundays, when he had every right and was encouraged to try to kill the man with the ball. Those were the days he didn't help anyone up.

This giant held his demons at bay with gallons and gallons of Seagrams VO Canadian whiskey and the company of as many women he could gather.

Steelers quarterback and professional party animal Bobby Layne would buy drinks for his teammates after practice in South Park. Forget the doubles. He'd buy Lipscomb an entire bottle of whiskey and set it in front of him.

But there's always another side, and Lipscomb's other side was gregarious, generous, fun, lovable, outgoing, and bold—simply put, he was loved. More than 20,000 people attended his funeral. A poem chronicling that day and his life appeared in the Saturday Evening Post.

Teammate Brady Keys, Jr. said: "Big Daddy Lipscomb drank, screwed and dominated football games."

Lipscomb never went to college. He went to the Marines, where he was discovered by an L.A. Rams scout playing in a well-organized jarhead league at Camp Pendleton in California. He spent three seasons there starting in 1953, surviving on his fear and anger, an unpolished hulk.

Lipscomb was traded to the fantastic Colts after the 1955 season. There he played next to the superb defensive tackle Art Donovan, another former Marine, who made five straight Pro-Bowls (1953-57). The unpolished hulk had learned how to play football.

Lipscomb was voted to the Pro Bowl in 1958, 1959 and 1962, his last season as a Steelers.

In the years before his death, he even wrestled professionally under the name Waffle Ear, not that anyone would have mistaken him for anyone other than Big Daddy Lipscomb. He was Waffle Ear because that's what he'd do to his opponents on the field, swinging those giant ham fists.

He wrestled on one insistence; that he play the hero, and not the heel. He didn't want to be mean and scary, he wanted to be a good guy, the guy who helps you up and lets you get ready before socking you.

He was sometimes caught buying ghetto kids clothes and shoes.

He was often the life of the party, calling everyone Little Daddy because some claimed he couldn't remember their names. If everyone was Little Daddy, then he must be Big Daddy, so that's what everyone started calling him.

Poet, activist, and all around magic lady Maya Angelou even remarked on her encounter with Lipscomb in her Even the Stars Look Lonesome.

It was at a party. She wrote:

After another visit to the bar, I crossed the cleared area that was used as a dance floor to approach the man mountain who I had secretly decided was a drug kingpin. His voice was part growl, part whisper: "Hey. What's your name?"

I said, "Maya. What's yours?"

He said, "Myra? What are you doing here? Who you come with?"

I drew all my height, my youth, my training into an obelisk of dignity. "This party was given for me. May I ask what you are doing here?"

His voice was a perfect match for his bulk. "Buddy Young brought me and we're getting ready to go. This your birthday or something?"

I knew he wouldn't understand, but I told him anyway."This is a bon voyage party. I'm leaving tomorrow for Chicago. I am a singer."

"I want to call you. Myra, I like the way you dance. Where do you stay in Chicago? I'm going to be wrestling over there."

Hmm, at least he had noticed my choreodrama. I told him the name of the hotel.

He asked, "And your name is Myra? What's the rest?"

I told him. He said, "I'm going to call you. Eugene Lipscomb. Don't forget me. I'm Eugene Lipscomb."

Moments later, outside in the cold, Angelou's friend asks who she was talking with.

As we neared his parked taxi, he asked, "Somebody said you had been talking to some big dude. Who was it? Are you planning on seeing him later?"

I said, "Hardly. He couldn't figure out how to pronounce my name. Kept calling me Myra." I began to mimic the big man. "Myra, don't forget I'm Eugene—Eugene Lipscomb."

        Godfrey stopped, gasped and grabbed my shoulders, all at once.

"Girl, don't you know who he is? Don't you know that's Big Daddy Lipscomb, the greatest tackle in the world? The star of the Green Bay Packers?"

Godfrey then ran off, looking for Lipscomb, leaving Angelou standing in the cold, alone with her remorse of judging the big man so harshly and quickly. It doesn't really matter that he never suited up for Green Bay.

As an aside, imagine the pair Buddy Young and Lipscomb made cavorting on the town, picking up the chicks. Young, known as the "Bronze Bullet", was all of 5'4". Imagine him behind the wheel of Lipscomb's '63 gold Cadillac, barely peeking over the steering wheel, while Lipscomb slumps massively against the door, trying to think who might still be up.

By most accounts, Lipscomb was very good with the ladies.

He also expressed interest in going to outer space.

"I want to be one of them astronauts. I'd like to get up on the moon, look around, wave the American flag, and get a little glory for Daddy."

On May 10, 1963, Big Daddy played some softball and then went partying with his friend, Timothy Black, and two women. As usual, he drank a copious amount of whiskey. According to newspaper accounts that relied on the police investigation, Black left Lipscomb alone in his small apartment to go grab some breakfast with the ladies.

When they returned, Big Daddy was dead, slumped in a chair. From the Post-Gazette:

BALTIMORE, May 10 (AP) — Gene (Big Daddy) Lipscomb, a fun loving goliath of professional gridirons for a decade, died today of unknown causes after a night on the town in his  new yellow Cadillac convertible.

"There is definite suspicion that narcotics are involved in the death," Dr. Rudiger-Breintecker, assistant medical examiner, said after a preliminary autopsy.

th

Although there were three fresh needle marks on his arm and a huge amount of heroin found in his bloodstream, his friends, colleagues, and lovers expressed doubt in the official story. Lipscomb was deathly afraid of needles, they said. Lipscomb was right-handed, and the needle marks were in his right arm. There was no way he could've shot himself up left-handed, they said. What happened to the hundreds of dollars he had on him, they said. They'd never seen a needle mark on him. He hid from doctors whenever it was time to a get a flu shot. He refused to be shot up with Novocain on game days.

"It's impossible for anybody to convince me of this," said Steelers coach Buddy Parker, in a newspaper story that appeared nationally on May 11, 1963. "We were too close to him, the doctor, the trainer, the coaches. We would have known."

The coroner report said he had five times the amount of heroin in his body to kill a man. He also reported that he was facing an early death regardless because of alcoholism.

The drug-dealing Black faced charges for having narcotics and paraphernalia in his apartment, but the charges didn't stick due to a loophole in the law as it read at the time.

Can it be possible that when Black left Big Daddy alone, drunk, old Big Daddy started rooting around and decided that he could use a little more medicine to help him get a little farther away from his past. He is a big guy, he thinks, so he needs a lot of this stuff. He mixes up a major dose, holds his breath, misses a vein the first two times before spiking one. Big Daddy was serious about going to the moon. Talk about one giant step.

He said:

Suppose I got to the moon first. Do you think the moon people would start throwing things at Big Daddy? If they did, I'd just lay a bear hug on them and cut off their breathing. But mainly we need a public relations man to go to the moon. And who can make friends faster than Big Daddy?

Bob Pajich is a writer and musician from the Burgh. His latest book, The Trolleyman, was published by Stanton Heights' Low Ghost Press.