{ The Cynics' Living is the Best Revenge Reviewed While Bathing My Cats }
Dwight A. Chambers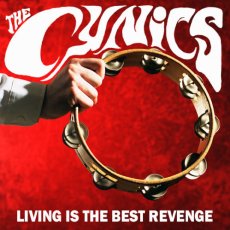 [Editors note: Semi-regularly, our own Dwight A. Chambers will be reviewing the latest releases of Pittsburgh-area bands and musicians while going through his everyday life, seeing just how well these albums fit in with the commonplace tasks and activities they so often accompany.]
Early Monday evening I find myself preparing to bathe two lively and energetic pussies—my cats Cairo and Leo. I collect towels, a small tub of warm water, cat shampoo (the "gentle, tearless formula" because I am pussy-whipped) and the album that will serve as the score to an endeavor I'm sure will be the most painful production since, well, Cats: local band the Cynics' Living Is the Best Revenge.
I start by inserting the Cynics' newest effort into my iMac. With a few clicks of the mouse the CD starts and I hunt down Cairo, an approximately three-year-old calico ice princess with a taste for Fancy Feast. I find her in the living room on top of the television, which has become her perch to survey a kingdom, which she once ruled alone but has since been invaded by lord Leo. But I'll get to him later.
I bring Cairo back to the bedroom and plop her down on the towel laid out on the floor. I hold her there, tensing my arm when she resists its pressure. She's trying to escape. Is it because she senses the dousing she's about to get, or because of the banshee-like screaming blaring from the computer's speakers? The song providing the cries is fittingly titled "Turn Me Loose". It's almost as if the Cynics were channeling Cairo's wishes. But I couldn't comply.
While scooping handfuls of water from the tub to soak Cairo's coat, I listen to such clichéd, unimpressive, uninspired lyrics as, "I don't know what you want me to do / I can't change my ways for you" and "Turn me loose / got to be free / turn me loose / New York City." I ponder granting the CD its wish and mailing it to the Big Apple. (I also think about trying to find a paid writing gig so I could afford to send the cats to a pro groomer, but that's neither here nor there.)
As I apply the shampoo and lather Cairo up, I realize that, surprisingly, none of my blood has been drawn at this point in the shampooing process. Unfortunately, the same can't be said for lead singer Michael Kastelic. While winding up the Cynics' Spain tour, Kastelic tore his urethra as he was pulled off stage. In reports, Kastelic recounts that someone grabbed his leg, and in trying not to fall completely off he ended up doing a split, landing on the edge of the stage. "So it sort of sliced the urethra," he's quoted as saying. Ouch!
Now, from his pain to the pain Kastelic caused me. Song after song, I'm forced to endure vocals that are uneven at best. And I don't think that urethra thing will help Kastelic with his vocals. From what I can only describe as that all-too-common punk lilt on most of the tracks to the seeming inability to maintain a longer note in the "Ballad of J.C. Holmes", the vocals are a noticeable weakness.
While rinsing and then towel-drying Cairo after her ordeal, the track "Revenge" starts to play. (Another instance of the Cynics channeling my cat's desires?) With a somewhat catchy chorus and appealing guitar work I think this is the best song so far. However, the following track, "I Got Time", degenerates when distracting hoots and hollers pepper the entire song. I release Cairo and she darts off, stopping a few feet away. She stands there wet and a little shaken, then dashes to the other room to fully recover.
It's Leo's turn now. He's a lean, gray-and-black-tiger-striped kitten, almost one year old. At times he seems possessed, his seemingly preternatural frenetic energy has him bouncing off the walls, literally. I think he'll want to use this energy to escape when he's in the vet's office waiting to be neutered in a few short weeks. But don't feel too bad for him. Considering Kastelic, at least Leo will have the privilege of anesthesia when he gets snipped.
Holding him down on the towel goes just about as easily as it did with Cairo. But then I wet him and he starts to squirm. He's younger, but stronger and more forceful than his calico comrade-in-paws. While struggling a little with the little cat it dawns on me that the track playing in the background sounds cool. "You've Never Had it Better" has that certain something that makes me like a song—the instrumentation and vocals just click. I almost wanted to take him by his front legs and make him dance to the music, but decide not to embarrass Leo or myself in such a way. I finish Leo's shampoo, rinse and dry him off, and then release my grip. He takes off like a rocket.
Now that I know I can bathe my cats without being maimed, this will be the first of many baths to come. I just hope they don't tell their friends, and their friends tell their friends, and so on and so on.
I also now know that when I listen to a Cynics CD I'll be less than mildly entertained. So I just won't do it again.
As of 24 January 2003, Kastelic was recovering in a hospital in Spain. Living is the Best Revenge is available at Paul's Compact Discs on Liberty Avenue in Bloomfield.