{ Human Brains' Horriblism Reviewed While Cleaning the House }
Dwight Alan Chambers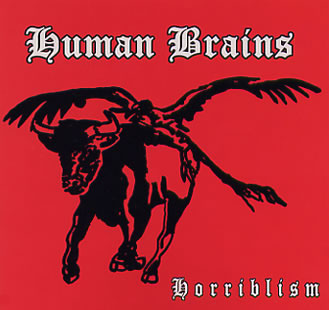 [Editors' note: Semi-regularly, our own Dwight Chambers will be reviewing the latest releases of Pittsburgh-area bands and musicians while going through his everyday life, seeing just how well these albums fit in with the tasks and activities they so often accompany.]
On a Sunday afternoon of housecleaning and home repair, I replaced the usual soundtrack of my life (i.e., the X, B-94, and MP3s ranging in artists from Avril Lavigne and Alicia Keys to Nirvana and System of a Down) with the latest effort from Pittsburgh's own Human Brains, Horriblism. I let the warm water fill the sink as I prepare to jump headfirst into what I assume will be a vocal cesspool whose odor will undoubtedly aurally assault me.
The first track is "Constant Stream of Abuse." I joke to myself that if the name was changed to "Constant Stream of Refuse" it would be a great toilet-cleaning song—if there could even be such a thing. At first listen, I'm taken aback by lead-singer Ben Brain's seemingly untrained voice belting out, more often than not, unintelligible lyrics backed up by a band I find acceptable if not appealing. But caveat emptor, my untrained ear can't discern between mediocre and great guitar playing.
Nonetheless, Brain's voice swiftly melds into an almost-melody with the guitars, drums, etc. to produce a nice sound, and I soon find myself scrubbing away at a plastic plate rhythmically to the music. When I move on to a spatula I think about doing some air guitar and then a wooden spoon-and-pot drum solo. Thankfully I came to my senses.
However, I'm not so sure the Human Brains had their senses about them when they wrote some of these lyrics. In "Open Season (for Rock)" Brain sings, "When I see you walking down the street/ I want to be those shoes on your feet." Although this reminds me to organize the mass of old shoes in my closet, I'm left with more questions than answers: Catchy? Yeah. Funny? Maybe. Good lyric? Don't think so. But does punk music need to have good lyrics? Not my call.
What is my call is that after the dishes are done and the floor is scrubbed (well, more like gone over with a Swiffer Wet), it's time to move along to the bathroom. "Freakout" starts with Brain singing in a stilted fashion: "There is no reason to be frightened." Obviously, he hasn't seen my tub, which—other than noticing how well I can work to Horriblism—is the current focus of my attention.
It turns out that Human Brains' high energy is just what I need for the final task of cleaning the tub and tile around it. I find that I can't help but scrub to the music. I pay extra attention to where the tub and tile walls meet in preparation for the new caulk I'll apply. How fitting that the short-in-duration and long-on-pulse-pounding-beats "Toolin' Around" plays as I start reading the directions on the caulking material. It seems I need a caulking gun to apply it. Guess there'll be no toolin' around for me.
My first exposure to punk rock is not as jarring as I had expected. In fact it was rather pleasant. If Human Brains and Horriblism are representative of punk, I may have found a new genre of music to clean to.
Horriblism is available at Paul's Compact Discs in Bloomfield.