Small Press Feature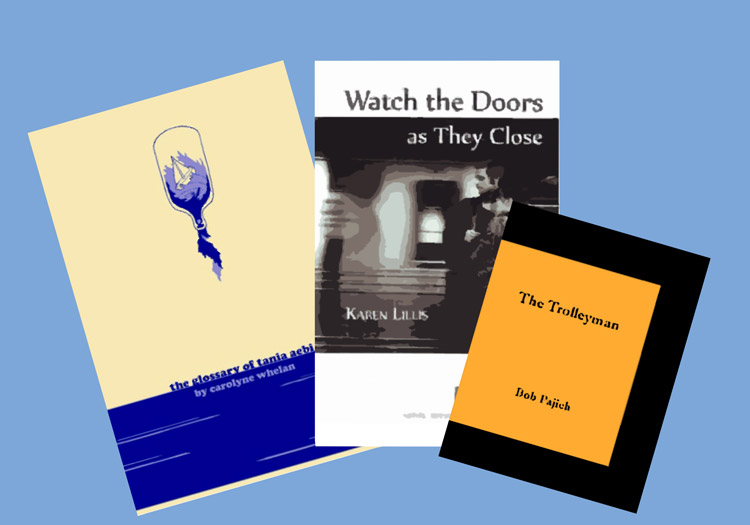 Carolyne Whelan's The Glossary of Tania Aebi (Finishing Line Press, 2011)
                                                                                                                         Taylor Grieshober
I recently cozied up with Carolyne Whelan's debut poetry collection, The Glossary of Tania Aebi and it did not disappoint!  Tania Aebi was an eighteen-year old bike messenger in NYC before she decided to sail around the world solo. As an alternative to a college education, Tania's father offered up a ship. In May 1985, Tania set sail from South Street Seaport in lower Manhattan with her cat and sailed 27,000 miles around the world, which made her the first American woman and youngest person in history to circumnavigate solo. Glossary… is a collection of persona poems that tell the story of Tania's life at sea.
Whelan writes a beautiful rendering of Tania's journey. She re-imagines deathly storms, broken engines, and generally being adrift.  In "Lost," she writes, "I am off the coast of someplace, but every place looks the same."
The poems are unmistakably lonely in both content and the plainness of Whelan's language. Tania's words are careful and few, as if at any moment, the speaker knows she will be swallowed up by the sea.The chapbook reads like a diary or recording of someone's final days, even though we know Tania survived her journey. In the first poem, "Admiralty Law," Tania laments, "I am the smallest creature in the universe; the schooling anchovies have each other." There is a palpable desperation in each piece that pushed me through the collection. Death is a recurring theme because at the time of her adventure, Tania's mother was dying of cancer. Whelan channels Tania's grief so vividly that I felt like a ghostly observer in Tania's cabin.  In "Barometer" Whelan writes, "There is a love letter somewhere in this cabin, a goodbye letter. My heart drops. I cry into the ocean but it doesn't rise."
Underlying all of this is the thrill of adventure, of seeking out a heroic life, and growing up in the process. One of the last poems in the collection leaves us on a more positive note:
Uncleat
clip out, free oneself. Sometimes the only way out of a situation is to enter another. So I was a teenage hellcat. So I left New York to sail around the world. What doesn't kill us makes us stronger. I am still alive and have killed many demons inside of me.
Carolyne Whelan's The Glossary of Tania Aebi is an ambitious, brave triumph. 
Karen Lillis' Watch the Doors as They Close (Meeting Eyes Bindery, 2012)            
                                                                                                                                Holly Coleman
In Karen Lillis' novella Watch the Doors as They Close we meet two paramours at the end of their affair. A nameless narrator takes the reader through a devout recollection of her now ex-lover, Anselm. Through musings and reflections the reader follows the "story of Anselm" as it is written in a journal he gifted the narrator when he declared she was the best writer he knew.

Lillis' writing gives the reader a very pure picture of a woman's laborious documentation of her former love without confessing much about the storyteller. The woman examines Anselm more so than their relationship, giving intimate details of his rural childhood, mommy issues and wanderlust.

In Watch the Doors… Lillis' characters prompt us to recall that one love we had who was unpredictable and un-salvageable. The love that turned into a consuming obsession. Lillis gives us a window into a woman who begins to eat and breathe the essence of a manic lover. The reader feels like a voyeur who has come across a forgotten diary found in a booth of the diner the main characters frequented.

Lillis does an incredible job of depicting the solitude and pandemonium of loving someone with a mental illness. The reader is ignorant of any life of the narrator outside of Anselm. You are able to visualize this woman, writing and contemplating the man who turned her world and heart inside-out.

Watch the Doors… is a perfect read for a cloudy day in a busy city where the sun makes momentary appearances: just enough to keep you wanting more and hoping things will turn out for the best.

Bob Pajich's The Trolleyman (Low Ghost Press, 2012)                                Scott Silsbe
There are some of us who have been waiting for a first full-length book of poems by Bob Pajich for what seems like a long time, and I'm happy to say that The Trolleyman (Low Ghost Press, 2012) was worth the wait.
The first time I ever saw the name Bob Pajich it was on a flyer stuck to a wall in the Cathedral of Learning.  The flyer was advertising a reading and it said "Bob Pajich (like the thing you get from work at the end of the week) and Matt Palasz (like the thing a king lives in)." 
This was years ago, so I only vaguely remember piling along with a bunch of other young poets into a back room or basement of an Oakland bar to see Pajich read.  But Pajich's reading that night left a profound impression on me.  I have been going to see him read and have been looking forward to his new poems ever since.
The Trolleyman is a generous book.  It contains nearly 30 poems, some of which are on the longer side.  I say it is a generous book because there is a lot going on here.  There are poems about family (and the complexities of family life), about work, about drinking after work, about shooting pool, about relationships.  There are poems capturing the beauty and sadness of life, there are some genuinely funny poems, and there are a lot of poems about memory.
In "Dropping Pajich Off at the VA Hospital", the poet captures a single moment of the past. "Out of one billion details I grab four," the poem begins.  Pajich renders a series of intricate images that put the reader in the scene: "Cigarette ash / blowing in his blue truck's cab like dandelion flakes."  Then there is this tender aside: "I want to tell him things and almost do / but what would that have done / except move him to silence, which is a crate / filled with dog bones he always / has to push out of the room."  What really gets me, after that nice extended metaphor, is the keen eye of the poet at the end of the poem: "When we reach the hospital, / he climbs out, stuffs his hands in his Teamsters jacket pockets / just like he was off to work."
One thing that really impresses me is Pajich's versatility.  He is no one-trick pony.  He can write a shorter poem that hones in on a single moment in time as in the poem above or as in "Salt."  But he can also open up a sort of roller coaster narrative with numerous playful tangents (like he does in one of my favorites, "Bloomfield Driver").  Pajich also writes stunning, image-driven surrealist poems.  In other words, Pajich's book has everything you could want in a book of poems.
The most impressive thing to me about The Trolleyman is how the poet is able to juggle accessibility and profundity.  Many of Pajich's poems are extremely down-to-earth, relatable to what seems to me would be a broad audience. I think I heard a quote once from LeRoi Jones (or Amiri Baraka maybe) that went something like, "If you are proud of a poem you wrote, go out to the street to where a construction worker is jack-hammering and read it to him.  If he doesn't hit you over the head with a brick, your poem is a success." 
Bob Pajich's poems seem like the kind of poems that wouldn't get you hit over the head with a brick by a construction worker.  Which is to say that more folks than just poets can appreciate these poems.  And yet, it never feels like Pajich sacrifices anything for that accessibility.  These are serious poems written by a profound poet. 
I saw Pajich read at Pitt-Greensburg not too long ago.  The great writer Lori Jakiela introduced him, saying that The Trolleyman saved her life.  It did not seem like hyperbole.  That's just the kind of passion these poems can instill in people. 
Bob Pajich is the real deal.  The sincerity in these poems leaps off the page.  The other night I was in my kitchen and I had this thought.  It was, Bob Pajich is the best thing since sliced bread. I guess the thought was something like—given the choice, I would take Pajich's poems over the convenience of sliced bread.  Bread altogether for that matter.  I'd rather Pajich's poems exist than bread.  That's just how good his poems are.
Taylor Grieshober, Holly Coleman, and Scott Silsbe are contributing editors at The New Yinzer.