Handmade Books: Or, My Answer to an Increasingly Digital and Mass-Manufactured World
by Katy Henriksen
There's much more than sewing involved in handmade books. I'm talking about small- run books printed in editions of 50, 100, or for those more ambitious, 200+. Not necessarily book arts, but something a little sloppier, more D.I.Y. than fine arts, and definitely more renegade. A poet finds a piece she wants to publish, buys a case of paper, perhaps screen-printing ink for the cover, and, with the help of a little linen bookbinding thread and much gumption, turns out a small run, all under her own roof.
As someone who came of age on the computer, amidst the rise of the service sector economy and death of the factory (at least on U.S. shores), I craved performing actual tasks with my hands beyond typing on a keyboard and clicking hyperlinks. Through employment at both a bookseller and a book publisher, I experienced firsthand the treatment of book as commodity. Assembling handmade books proved a perfect remedy.
This seemingly tiny endeavor becomes much larger when the details are examined.
____
My first job in New York was stacking plastic-wrapped oversize Matthew Barney and Cy Twombly monographs in the newly formed art floor of the gargantuan Strand bookstore. I unboxed, stickered, and shelved books alongside other automatons. Occasionally I helped a customer locate unscathed copies of some high-end designer du jour. Particularly fussy patrons actually requested wrapped copies: They wanted their glossy contemporary art books to be unscathed. Although I'd worked at secondhand and new booksellers, never before had I felt like a human cog in the late 20th-century machine. At the Strand, a book was nothing more than a commodity.
After five months of selling books, I worked as a publisher's assistant at an independent literary press in SoHo, and learned about the commercial process of assembling a book. I sat most of the day at a desk, glued to my computer amidst intermittent shouts from the publisher to get so-and-so on the phone, heat up his clam chowder, or take dictation from him on a laptop in his office as he chain-smoked. Bids were sent to printers in Thailand. Sample papers were compared until the cheapest, most satisfactory type was found. Jacket copy had to be written, blurbs solicited. This was my first publishing house experience after years of working in bookshops and any romantic notions of literary publishing I'd ever conjured were swept away in a matter of weeks.
____
That winter, my husband Matthew, who already co-edited an online magazine, wanted to start a print journal called Cannibal. His plan was to lay out each poem on 8 ½ by 11 inch sheets for copying and staple binding. I pictured a more labor intensive process that involved sewing and screen printing.
I'd never hand-sewn a book before, never screen-printed anything. I had never even taken a class on bookbinding. All I had was a lifetime of D.I.Y. arts-and-crafts enthusiasm, and a book titled Crafting Handmade Books, which I'd purchased at a used bookstore years before. But Matthew decided to trust me. We went forward with a plan to make the journal more elaborate than he'd originally envisioned.
We first discussed this publishing endeavor in our kitchen, with its sunken pressed tin ceiling and interminably dripping sink, which also served as our office. Calling our third-floor walk-up apartment in Greenpoint, Brooklyn a one-bedroom would be generous. A bed took up our entire "bedroom," which was really only an oversized hall that led to the bigger room. This once industrial neighborhood, home to the Brooklyn Terminal Market that assembled the ironclad U.S.S. Monitor, was now home to a large Polish and Puerto Rican population, with a large dose of displaced hipsters who'd moved north to escape the rising rents of Williamsburg.
The making of Cannibal would serve to act out my reaction against the commodification of the book I'd witnessed firsthand working at the Strand and a literary publishing house. I insisted we do everything ourselves, short of making the paper (I know a few folks who actually do this for their books as well). All of the printing, folding, trimming, poking, and sewing happened inside our apartment. I didn't want to outsource anything and wanted to know that, from initial concept to final product, I could make an object in my own home.
___
Katy Henriksen cutting paper (Photo by Jared White)
We started by picking the work, which I really had nothing to do with. From the many poets he knew, in no time Matthew compiled a massive body of work for the first issue. I then set the poems in Quark XPress, the only part of the process I completed digitally. After paginating the 86 pages—signatures of 16 pages were planned out to fall accordingly into place by folding four pieces of paper in half and sandwiching them together—we printed them off with our dinky home office laser printer that also served as a copier and scanner.
Assembling 200 copies of the first issue meant printing 4,400 pieces of paper both back and front. After printing came the folding of each page by hand. The pages were then collated into five separate signatures, four pieces of paper nestled together to form a grouping of 16 pages. Next, we trimmed the page edges by a sixteenth of an inch to fit inside the cover. For this we utilized a heavy metal paper cutter a friend had rescued from the streets. The blade was so dull that trying to slice any more than one signature at a time was impossible.
After that, we poked holes in the signatures with a handheld awl. A good bookbinding awl has a rounded, wooden handle for cradling in the palm of your hand and a sharp point at the end of the metal rod for piercing. For the Cannibal stitch we needed four holes in each signature, two an inch apart an inch from the top, and two an inch apart an inch from the bottom, making the total of holes punched for the issue exactly 4,000.
For the cover, I hand-designed a screen print utilizing perhaps the most elementary method that exists for screen preparation. After transferring the design by tracing it to the screen with a pencil, I used Modge Podge crafting glue to block out the areas where I didn't want ink to seep. Each cover was then screen-printed with a couple presses of a squeegee on a screen filled with ink wherever there was clear, flat surface to work with. Sometimes this was the kitchen and other times the living room. My working surface was a small wooden plank set on the floor; my hands served as the hinges for the screen.
After the covers dried, we measured each spine, then scored it with a bone folder, and cut four slits (to correspond with each hole in the signatures) in it. The slits on each cover would allow us to sew the signatures to the spine for an exposed stitch.
Only then were we ready to sew.
___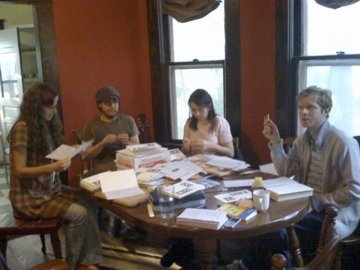 Farrah Field, Christopher Eaton, Sara Nicholson, and Joseph Bradshaw (Photo by Jared White)
For the first issue, we mostly relied on our own hands, but soon realized that friends were eager to help. What began as a solitary project soon became a collective, social task and a new type of factory formed—a factory in which the assembly line became an active community of individuals who felt satisfaction in making books with their own two hands in the good company of others.
By issue three, our apartment overflowed with bookmaking comrades who sat on the couch, in chairs, and spilled onto the floor assembling Cannibals while drinking wine and beer. We even allotted a fill-in-the-blank so that whoever sewed a copy could sign their name. Today, friends who join us for bookmaking parties consider participating a privilege.
Four issues later, Cannibal is still produced in a run of 200 each year. The first three issues—a few of which were bloodstained, along with several that were shakily stitched in the car en route to AWP in Atlanta—sold out. In addition to the journal, we started publishing chapbooks by individual poets. Less labor intensive, these mini-books usually run between 15 and 30 pages made in either one or two signatures.
The production still takes place in our home, currently a three-bedroom house in downtown Fayetteville, Arkansas, a college town in the Ozark Mountains that swells with honeysuckle and spiders each May. Here we have enough space for a book studio/office, a luxury we managed without in Brooklyn. But once we're ready to assemble, we still call out the troops, and the bookmaking becomes a social task.
Gathered around the oval dining room table, we drink, snack on homemade pie (if I'm feeling ambitious), and chat while folding, collating, poking holes, and sewing. There's always music on the stereo—Gram Parsons is a favorite. We've made fewer bookmaking buddies here in the hills, but the few we have are immensely dedicated.
Collective bookmaking creates an immediate bond between those who participate, and no matter where we end up next, we know that the Cannibal factory will be coming with us. Easily packed and transplanted, the Cannibal Books community knows no boundaries.
Katy Henriksen is the art director for Cannibal Books, which she founded with her husband Matt Henriksen in Brooklyn, where they curated The Burning Chair Readings. Recent Cannibal Books releases include TNY Guest Editor Claire Donato's Somebody Else's Body, Keith Newton's Sent Forth To Die in a Happy City, Carolyn Guinzio's Untitled Wave, and Thomas Hummel's Autumn it gestures. Patrick Morrissey's Transperency is imminently forthcoming. Katy recently returned to her hometown of Fayetteville, Arkansas, where she works as a cultural journalist and editor. Her work has appeared in a wide variety of publications including The Rough Guide to the USA, The Brooklyn Rail, Oxford American, Paste, Puremusic.com, Tight, and Venus Zine. She is trying to get better at keeping up with her blog, helloloretta.tumblr.com.
All Material © 2009 The New Yinzer and its respective authors