It's a Hard Knock (This American) Life: An Interview with Starlee Kine
"There's this new movie called The Orphanage, which is [about] totally fucked-up child dead orphan ghosts," says Starlee Kine. "It's going to be, like, orphans killing people. It's going to upset me. But I will go see it. Any movie that has an orphan, I will go see."
Starlee Kine, 33, is a frequent contributor to National Public Radio's This American Life. She is best known for her 2007 segment on TAL's "Break-Up Show". In one 30-minute "act," Kine, whose ex-boyfriend dumped her on New Year's Eve, documented the process of writing and recording her break-up song, "The Three of Us." Since she had "no musical ability" and "[couldn't] play an instrument of any kind," Kine consulted Phil Collins for expert break-up song advice.
Kine currently lives in Williamsburg, Brooklyn, where she is working on a book called It Is Your Fault (forthcoming from Riverhead Books). In New York, she is active in a literary landscape populated by smart, self-guided 20- to 40-somethings who are committed to keeping writing public, refuting the writing world's often self-absorbed, careerist agenda. Kine and her likeminded peers are the sorts who embrace graphic novels as literature, attend events sponsored by The Believer on weekends, and choose inner city tutoring over Ivy League adjunct positions.
The poet Chelsey Minnis has said about poetry, "Write poems for your own age group or younger." This advice encourages a generational intelligence that is important in all writing genres. As a writer, Starlee Kine has high generational intelligence. With her work on This American Life, she brings a youthful originality to NPR that is often lacking in public radio. Her TAL reports and commentary cover a wide gamut of contemporary topics, from child actors to break-up songs to rallying for your parents' divorce.
Despite her public affiliation with heartbreak, for Kine, existence is more than cobwebs and sorrow. Listening to Kine, one gets an impression of her American life: she finds a coffee shop with plenty of plugs ("Most places cover up the outlets"), flashes her newest driver's license ("I look really tan, even though it was November"), and streams Law and Order. "It's an anti-depressant," she says. "No one on Law and Order will tell you to feel better. It's so awful out there."
Interns and Orphans
To know Starlee Kine is to know that Starlee Kine loves orphans. "When I was little, I loved Punky Brewster and Nanny Gann," Kine says. "It was this time when every single TV show had an orphan: There was Webster, and Silver Spoons. I liked them all. I liked books about them. I liked fairy tales about them."
In 1999, Kine began her career at This American Life as an intern. "I remember the application process was really hard because I hadn't heard the show often at the time," she says. "This was way before high-speed Internet, so I had to go to a friend's house to listen to all of the episodes online I [sat] in this room and [listened] to all of the episodes—or as many as I could, because I had heard so few, and you have to talk about your favorite and least favorite shows on the application. I don't even know that I had heard a whole show before I applied to be an intern. I had never listened to public radio."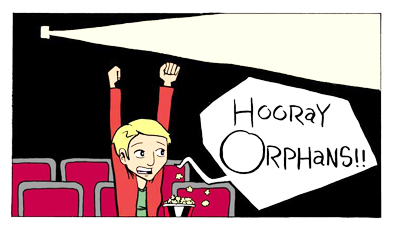 However, before applying for the TAL internship, Kine had been on the show. "When I was in college, I made a documentary—this really crappy documentary—about a neighbor I had who thought I was a drug dealer.
"She was an old Ukrainian woman, and she was my neighbor in this little building in the East Village. She was totally convinced that I was, like, this major drug kingpin. She used to put up signs around the building on the back of rave flyers. They would say 'Number Three'—which was my apartment number—'Selling Drugs.' She was trying to frame me, and take me down.
"I made a movie about her for this video class that I took," she says. "At the time, I was working at a bookstore, and I would have people who I was working with in the bookstore over after [work]."
Paul Tough, a former editor at TAL who now is an editor at New York Times Magazine, learned about Kine and her neighbor via one of Kine's co-workers. Taken by the narrative, Paul contacted Kine and recorded a radio story about the two that featured Kine's commentary.
After completing her internship, Kine became a producer at TAL. She has always admired Paul Tough. "Paul was the reason that I found out what This American Life was," she says. From Tough, Kine learned about "this civic literary world that I didn't know existed. Paul kind of represented all of it. … He [became] my model for the kind of life I wanted to live."
The Ira Glass House
In 1993, Starlee Kine began her undergraduate work at New York University, where she focused on dramatic writing. "I don't want to give any credit to NYU. Really, I don't think it's a good program," she says. "I do not recommend anyone studying dramatic writing in undergrad. I was 18 and writing screenplays about homeless people. It's a weird thing to major in when you're 18 years old, because you know so little anyway. Then you're suddenly writing these scripts."
As an intern and producer at TAL, Kine developed a professional relationship with host Ira Glass. "When I worked there, the staff was very small," she says. "There were only five producers. That was it: The producers, Ira, and an administrator. I worked with Ira all the time." The accommodations at TAL might've reminded Kine of one of her fabled orphanages. "I worked with Jonathan Goldstein, who's a writer now and has his own radio show in Canada. Jonathan and I shared an office. We were really, really close."
I ask Kine to describe the process of crafting a script for TAL. "Usually what happens is you work with the [other] writers. You get the scripts into shape, you get the tapes into shape, or you do your own story and you get it into shape. Then Ira comes along and he tweaks the scripts. There's a lot of brainstorming sessions where you sit around and give ideas to each other to see where the scripts will go. … We [also] get to use whatever music we want to on the show. … It's diplomatic immunity."
"Ira's a great line editor," Kine says. "Sometimes, he'll just stare at a script for hours and just try to get every word perfect. I find that's rare when you do stories: To have someone give that much attention to detail."
Kine credits Ira Glass and the staff of TAL with teaching her about the process of writing."I really feel like This American Life taught me everything," she says. "Because I started This American Life right after college, it felt like graduate school for me. I feel like everything I've learned about writing scripts—and I do want to write television and movie scripts eventually—everything I will have learned will have been from This American Life, and not NYU.
"This American Life taught me what a good story was. And you can do anything once you know [that]."
I Think I Need a New Heart
I first heard This American Life's Break-Up Show on a cold autumn night in Pittsburgh, Pennsylvania. At the time, I was playing a lot of late-night online Scrabble with my long-distance boyfriend. You know when you listen to 69 Love Songs too much and you want to be heartbroken—not because you want to bemiserable, but because Stephin Merritt breaks your heart? Starlee Kine's segment on break-ups did that to me.
Following her break-up, Kine listened to a lot of Phil Collins' music. "I was no longer listening to his songs for pleasure, but for pain," she reported. "[Collins' songs] were break-up songs, and hearing them was the only thing that made me feel better. And by better, I mean worse."
Kine contacted Collins via a friend. "The great thing about that story is that so many people love Phil Collins so much," she says. "I was talking to this one man who said he felt really proud of Phil Collins about how honest he was [on the show]. I feel proud of him too."
Recently, TAL invited listeners to submit re-imagined versions of Kine's final break-up song. Winners of the contest were selected by music professionals, TAL producers, and Kine herself. Kine's favorite re-imagined piece was written by Scott Adams, a.k.a. "Birds May Bite." "I love [Scott's rendition]," Kine says. "That one totally broke my heart. His typewriter [sound effects] killed me."
I ask Kine how she feels about being linked to the subject of heartbreak. "I'm OK with it," she says. "I mean, I don't want to become a break-up guru or anything, which I'm a little afraid is going to happen.
"I get a lot of e-mails about that story, and it is kind of surprising to me how big a nerve it struck," she says. "I'm happy with how the story turned out, and I'm glad people liked it. I knew going into it that it was going to be a bittersweet success; it is about my break-up, and I never heard from my ex-boyfriend about it. The key player in it has not listened to it."
The Stanislavski System
Growing up in the suburbs near Los Angeles, California, Kine took acting classes at a young age. After listening to Kine revisit her childhood acting roots in the "Missing Parents Bureau" episode of TAL, I asked her about her experience as a budding child actress.
"I totally failed. I was such a failure. A colossal failure," she says. "My little sister and I really, really wanted to be child stars. I'm not even sure if my sister wanted to as badly as I did. [We] had a really bad agent. I blame a lot of it on my bad agent. But also, I don't know how good of a child actor I was."
Kine attended La Serna High School in Whittier, California. So did Andrea Barber, who portrayed Kimmy Gibbler on Full House. "L.A. is a really cheesy place. I was convinced that I was going to be a child actor," Kine says. "I mean, I didn't even play sports. [My sister and I] would just go off to our child-star acting classes. All the time. I was in a dance troupe with top hats and gold lamay vests and bowties. That seemed really normal."
Between the years of 1984 and 1988, Kine and her sister stuck with their acting classes. "We'd drive into L.A. every weekend. We would take commercial classes where you learn how to eat the chips, and you spit the chips out into a bucket, and you learn how to chew gum, and we took voice classes, and acting classes, and I feel like, in the end, I just wasn't a good child star.
"The kids in my class were solid little child actors," Kine says. "They were probably not very good. I did a story about how we were all supposed to pick disturbed kids as characters in the classes. It was always about movie-of-the-week performances. You were always expected to cry, and I was just so bad at it. I could never work it up. I found it so funny, and I was always laughing. I just could not get into character."
The blurry line between a child actor's perceptions of performance versus reality is familiar to me. I once took an acting studio as part of a pre-college program curriculum at the University of the Arts in Philadelphia. In this studio, individual students were directed to vocally project their pent-up anger in the faces of other individual students. This exercise resulted in many screaming fits and several nervous breakdowns. Kine reflects on similar circumstances:
"There'd be kids in my class who'd get so deeply into character that they couldn't cut out of it: They would just start crying, and you'd have to take them off the stage, and they'd have to go the bathroom and take a break. They just could not get out of playing these destroyed little children. But I just could not get deep enough into it. If anything traumatized me, it was that I wasn't inhabited enough.
"Even when I was little, I would write my own material," Kine says. "I would do these very neurotic monologues in my classes. So I feel like I was always supposed to be [a writer]. There was a reason I failed."
Portrait of the Caucus as a Young Girl
"This year, I've decided there's no more apologizing: I cannot understand why anybody is a Republican," says Kine. "I don't want anyone to be a Republican. I don't like them… I cannot take it anymore. I want them gone. … I like Obama. I guess I'm officially endorsing Obama."
In early January 2008, Kine attended the Iowa Caucus. "When I was in Iowa, I felt like I knew everything," she says. "I felt like I could have predicted the future of everything. I totally thought Obama and Huckabee were going to win. When you're there, people [talk] like that. And Obama was so awesome there, you thought, 'There's no way this guy could lose anything!' And he didn't. But he lost the next one… When he lost New Hampshire, [I felt like] it was because I wasn't there."
"I just wanted to go. I [felt] restless and [felt] like [I was] sitting in front of my computer too much. So I just went. [I wandered] through Iowa and [watched] all of the candidates… I probably could have talked to Huckabee—I was very close to him. I got a picture of Bill Clinton and Chuck Norris. I was happy with that."
In Brooklyn, Kine co-curates the Post-It Note Reading Series, in which participants (past readers have included David Rakoff and Jorge Just) read stories accompanied by Post-It notes illustrated by Arthur Jones. The series is currently searching for a new home, though it may re-settle in Prospect Heights' historic Montauk Club.
"We're trying to do animation now," Kine says. "Arthur is really awesome, and is a really great animator. We're trying to take it up a notch. We've been working on a pilot. We want to animate the presidential campaign on Post-It Notes. I brought a tape recorder [to Iowa]. [I recorded] audio so that Arthur could animate what happened for a Post-It Note show."
Self-Help Yourself
Currently, Kine is working on a book titled It Is Your Fault, a sort of alterna self-help travel memoir that will feature approximately twelve personal essays. "It's me going to different self-help retreats," she explains. "Each essay is [me] addressing something about myself that I have to fix."
Kine avoided overpriced, mainstream self-help seminars, instead seeking help from the fringe. "I went to [a retreat] called the Hoffman Process in Napa Valley that was so fun," Kine says. "You take a whiffle ball bat and you bash your parents to death: Your parents are a pillow, and you kill your parents for days. That was the best vacation I've had.
"There was this place called Radical Honesty I went to in September. I got kicked out. It was totally crazy—a total cult. That was in Virginia. There's this mad man who runs it, and he just yells at you a lot. He yells at you for not being honest, and he kept calling me a bitch."[Radical Honesty] just feels like a sex cult. You live in this house for a week, and you do all of these bullshit exercises. Other ones have been better than that one. That one's really extreme. Any place where it's one guy that's come up with a philosophy [is] trouble. It [encourages] cult-like behavior. There was a day when you were supposed to get naked, and I wouldn't get naked. So I got kicked out. We were already fighting before that. He told me when he was kicking me out that it was going to be really great if I got kicked out for not getting naked cause people could understand that. So I hesitate to say that's why I got kicked out."
The TAL episode for which Kine is best known began as an idea for It Is Your Fault. "Some of the book will be me coming up with my own ways to help myself. That's why I got the idea for a break-up song. Originally I was just going to do it as a chapter in the book: I was going to take a class where I learned to write a break-up song."
"I enrolled in that class. It was really bad. It didn't teach you anything. The teacher just sat on a stool and told you stories about hanging out backstage with Bruce Springsteen once. He knew nothing. So then I decided I was going to contact real musicians to teach me, and then the radio story happened. It's still going to go into the book."
"I'd rather things go well," she explains. "I don't want my book to be me being all snarky and ironic. It's too easy to take shots at people. I want to actually try to understand what's going on. A lot of people who go to retreats are genuinely searching for something and are feeling a little lost."
Kine began working on the book last spring, when she was a fellow at the MacDowell Colony in New Hampshire. "The break-up happened before the residency," she says. "[MacDowell] felt like a sanitarium. I felt like I was being moved to Italy—like when people got TB at the turn of century and they had to be taken to a warmer climate. … I was going to a sanitarium to recover from the break-up.
"You're supposed to be writing, but I did a lot of reading. I started reading more than I had in a long time," she says. "I went through a huge Joan Didion phase when I was at [MacDowell]. ... I could not stop thinking about her. I had a picture of her on the wall of the cabin.
"I [also] made a hanging mobile out of twigs, and I felt really happy. I felt like I was a retarded person making a mobile out of twigs. It was very satisfying."
Kine can only hope It Is Your Fault will bring her as much satisfaction as her mobile of twigs.
Check out Adams' music (including his rendition of "The Three Of Us") at www.birdsmaybite.com
Listen to the "Missing Parents Bureau" episode of TAL: thislife.org/Radio_Episode.aspx?episode=183
An archive of this recording can be found at www.thislife.org/Radio_Episode.aspx?episode=75
Starlee's segment on the Break-Up show can be found at thislife.org/Radio_Episode.aspx?episode=339
Check out poems by Chelsey Minnis in this issue of The New Yinzer.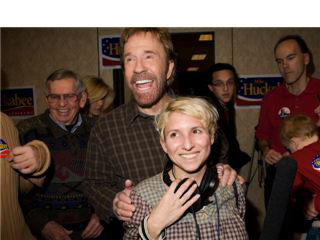 Starlee Kine is working on a book of essays about self-help called It Is Your Fault. She also contributes to the public radio program This American Life. She is totally not dating nor planning to date Chuck Norris, because he would probably be an annoying boyfriend to fight with. She'd keep saying, "Use your words!" but he wouldn't listen. He'd just go on pretending to cut swathes through the jungle with his toothbrush. No way is she putting up with that.
Claire Donato is from Pittsburgh, PA. She has resided in Oakland, California for the past four months and assists with a few projects at McSweeney's in San Francisco. She is moving to Providence, RI this summer and will begin her MFA in Literary Arts at Brown University in the fall.