Paperback Jukebox – Sleepwalk by Adrian Tomine
<![if !supportEmptyParas]>
I've never been a "comic-guy." Sure, when I was a kid, I collected some Aquaman and X-Men comic-books here and there, but until recently, I never knew anything much about indie comics. In the past couple years, though, I've become more and more interested in the indie comic scene—mostly due to close friends who know a lot about it. Now, after a few recommendations from this friend and a few from that, I've come to be a fan of comic artists like Jeffrey Brown, James Kochalka, and Chris Ware.
A few months ago, a friend suggested I check out Adrian Tomine (whose last name, I'm told, is pronounced Toe-Meany). Scanning the local library's comic-section last week, I happened upon Tomine's Sleepwalk, a collection of short stories. Immediately, I was intrigued, as I couldn't recall ever reading a book of "graphic short stories." I'm always interested in new genres—genres that haven't quite been figured out yet—and even though I could guess that the "graphic short story" wasn't an entirely new genre, it was new at least to me.
Pretty soon after cracking open Sleepwalk, I thought of Raymond Carver, one of my favorite short story writers. There's a bit of Carver's sinister worldview in Tomine's short stories, and definitely something of Carver's bleak depiction of romantic relationships. And oftentimes, Tomine leaves his stories open-ended, with no real resolution for the characters—that also reminds me of Carver.
Something I find compelling about Tomine's stories is that they don't remind me of the other indie comic artists I've come to admire. One thing I've enjoyed about most of the Jeffrey Brown and James Kochalka books I've read is how personal they feel. When I read Brown and Kochalka, I feel as if I'm reading their diaries—and I'm always baffled and impressed by how honestly they depict themselves, including their shortcomings. In Tomine's stories, I don't always feel that personal connection. I believe it's because he doesn't stick to the first person exclusively and because, at least in this collection, he has a wide array of characters.
Another thing I really like about Sleepwalk is the varying lengths of the stories. A story like "Hostage Situation" sprawls over thirteen pages, whereas "Drop" is only a single page. The variety in lengths makes for a unique pacing to the book, and it also continually reminds me of the form of the book. Often when reading comics, I catch myself reading the words and not paying much attention to the pictures. Once I catch myself, I try to slow down—take my time, and take in both.
I was continually catching myself while reading Tomine's book, and I think one reason is because the book accomplishes its greatest moments in silences. There's a power to what is left unsaid in Tomine's stories—left unsaid by either the author himself or by his characters. The silences articulate a kind of loneliness I've known but never quite seen captured before. And it's those moments in this book that will make me return to Tomine's work.
<![if !supportEmptyParas]> <![endif]>
<![if !supportEmptyParas]> <![endif]>
| | |
| --- | --- |
| | Scott Silsbe was born in Detroit and now lives in Pittsburgh. His prose and poems have been published in Notre Dame Review, Third Coast, good foot, nidus, and Kitchen Sink. He is an editor at The New Yinzer and a rocker in the band Workshop. |
Paperback Jukebox – The Tin Drum by Gunther Grass
<![if !supportEmptyParas]>
The Tin Drum is a whopper of a novel (over 600 pages) set in the Free City of Danzig during WWII. It is told by, and recounts the life of, Oskar Matzareth, who at the age of three decides to stop growing. He also decides to tote around a red and white tin drum with him everywhere he goes, encapsulating moments and the people in his life with his beats. Oh, and he also shatters glass with his voice, which along with his hypnotic drumming, throws a wrench into the intentions of the Third Reich, the Polish infantrymen, and the average townsperson. But Oskar really has no political or social agenda. He's just a little anarchist and his decisions are more impulsive experiments than acts of resistance. Oskar is there for the Polish Post Office resistance and the Russian invasion and destruction of the city; and while this subject matter would hint at a sentimental retelling of these events, the narration is cool and indifferent. This underplay tends to make these factually jarring moments more poignant. The book is also rampant with symbolism; at one point, a significant character dies by choking on their Nazi party pin, and I take Oskars stunted physique and emotional responses to represent the numbed reactions of many to the atrocities of the war.
If you want to get an idea of the feel of this novel, think Midnight's Children: same Dickensian scope of character, same strange, slightly unsympathetic narrator with supernatural powers, same magically real details. The novel is also relayed from a narrative present. Oskar is in a sanatorium writing his own autobiography from before his birth up to his incarceration. Oskar wants to "harmonize chaos and intoxicate reason" and I get the sense this was also the intention of Grass. This novel was written in 1959, and addressed a history still fresh and untouched by most novelists. But aside from its social and historical significance, it's just a good read.
Alicia Barnes is a recent graduate of the University of Pittsburgh, where she studied English Literature and Nonfiction writing. She plans on going to Prague to teach English and write in the near future. She doesn't believe in going to bed angry and she makes a mean cranberry sauce.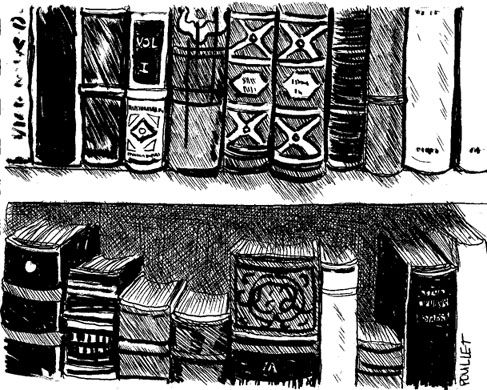 Paperback Jukebox—This Is Not Chick Lit
One day, while I waited for a friend to end her working day so we could go to happy hour, I decided to spend some quality time in a book store. It had been a while since I was able to go in and buy a book for pleasure reading and not for some assignment from a teacher. I was excited as I walked the aisles--mysteries, history, fiction, non-fiction. I scanned book after book. Finally, I came across a book with a black background and big pink letters that read This Is Not Chick Lit: Original Stories by America's Best Women Writers. The title struck me funny. "What do they mean this isn't chick lit?" I thought. Well, basically, it's not those corny love stories that so many women enjoy. Me, on the other hand—I hate those, so this book is perfect for me. I purchased the book, and immediately began to read it, still having time before my friend was done with work. From the first sentence I knew that this was going to be a book that I would enjoy and read quickly, not one I'd never finish, one that would just sit there taunting me. 
This book was definitely not going to bore me, I thought. I scanned a little bit of each of the 18 collected stories, not reading too much, but just enough to see what the entire book was going to be like. While not one of those sappy romance novels, it does have relationship issues in it. But maybe it's simply more about interaction between people.
All of the stories are extremely well written. I can easily picture myself as one of the characters in each story or else I can see a little of myself in each of the stories. The stories do not follow the same "recycled" plot that is often used in writing books for female audiences. You know the one—a desperate woman, searching for love in all the wrong places, finds an amazingly hot man who has some flaw that is obvious to everyone except her. The stories in this collection actually got me to think, and wonder if some part of this fiction might just be a little true.
As I read through the book, I fell in love with the characters of each of the short stories. I would play out scenarios in my head as if I were reading about how I would handle similar situations in my life. For example, one of the stories written by Dika Lam is about two sisters going through the uncertainties of their lives. Since I have a younger sister, this story in particular struck a chord with me and got me thinking about how we interact with each other when we are having problems and how we need each other.
When I finished reading the last page of the last story I was disappointed that I had finished the book so quickly. I didn't want it to end. I have ventured back into the bookstore a few times since, but I've yet to find something equally as compelling. I suppose I'll just have to keep hunting.
Nicole Sebula is an editor at The New Yinzer. While not doing her editor duties for TNY, Nicole works full time at the University of Pittsburgh. Nicole enjoys blogging, watching movies, and listening to music.
Paperback Jukebox — But Beautiful by Geoff Dyer
It was a condition of those years, my early twenties, that every day was overcast. Looking up at the sky I would often mistake it for solid stone; some heavy thing in its mask of concrete that at any moment, on any day, could fall on us. My city and I tried our best to live underneath it, under the threat of such a heavy sky. There were bridges crossed. Phone calls made from dark apartments. Restaurants were eaten in. Time passed. Conversations, classes. The warm bed of a girl with a weird laugh. It was all of a single mood. It wasn't unpleasant but I can't say that I was happy through much of it.
And there were records and there were names: In a Silent Way, Eric Dolphy, The Black Saint & the Sinner Lady, Scott LaFaro, This Is Our Music, Lee Morgan, Blue Train, Clifford Brown, Smoke Stack, Cannonball Adderly…names suffused with poetry, records that devoured days. All of a mood; a feeling that surrounded the time like soft glass.
Winter: a travel mug of coffee smuggled into the music library at the university, the turntable going, electrical hum, static licking at ears snug tight in headphones. All that vinyl spread around. Delicious. Oh it was.
Summer: reclining along the stone steps of the Carnegie, some generic vending machine food and a cola, birds streaming through the humid afternoon, the sun somewhere out there anonymous behind clouds. Click play on the walkman. Whir it went. That music…oh that music.
All of that is here in this book by Geoff Dyer. Funny that I've known about this book since those very days when this music first marked me but it wasn't until two days ago that I began reading it. Dyer knows this stuff. He dreams it. But Beautiful is fiction, it's anecdote, it's the wish fulfillment of the jazz fan. We drop a needle on an old record and dim the lights. Maybe there's a glass of something nice. Maybe you're with a friend; a girl. Once those sounds come rippling out, though, we've moved inside ourselves. The imagination kicks in and now you see the bandstand. Sweat flies and everyone's dancing. The horns are so hard. That drum crashing. It moves. The whole thing moves.
These people are ghosts now and we want to have been there when this music was happening for the first time.
It's what we want. But it's not something that we can have.
Dyer is only doing what we have all done while listening to those records. It's the whispered secret told between sets. Did I ever tell you what Lester Young was like in Paris? I once found Bud Powell out of his head in ripped pants in an alley didja know that?
It's a lovely book. Melancholy and gorgeous. A sweet improvisation wrapped around a pretty little melody each of us has been humming for years.
| | |
| --- | --- |
| | Kristofer Collins is an editor at The New Yinzer and owner of Desolation Row CDs. A book of his poems entitled "King Everything" was published in 2007 by Six Gallery Press and is available in local shops as well as at Amazon.com. |